We start the new year right away with the introduction of new features and enhancements - long awaited by some users.
Owner and co-owners
Recently, it has become possible to mark a specific owner with whom the dog is staying, i.e. to indicate the dog's residence, for each dog entry. This is done by clicking onto "Set as residence" on the Breeder/Owner tab of the particular dog entry (in edit mode).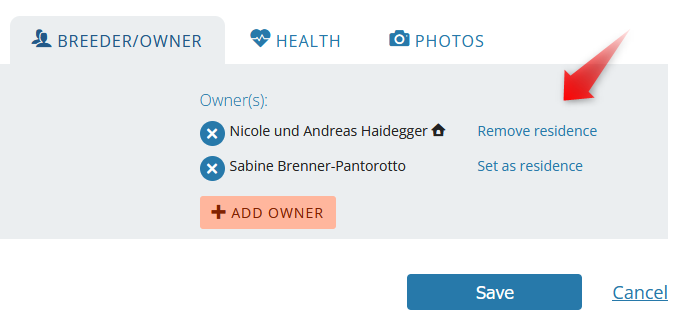 Since the owner and co-owners of a dog often live far apart geographically, the information about where the dog actually stays can be interesting for others. For example, for interested breed enthusiasts if they would like to meet for a walk and see the dog live, and for breeders if they have shortlisted the dog as a stud dog.
The dog's residence is indicated by a small dog house symbol next to the particular owner: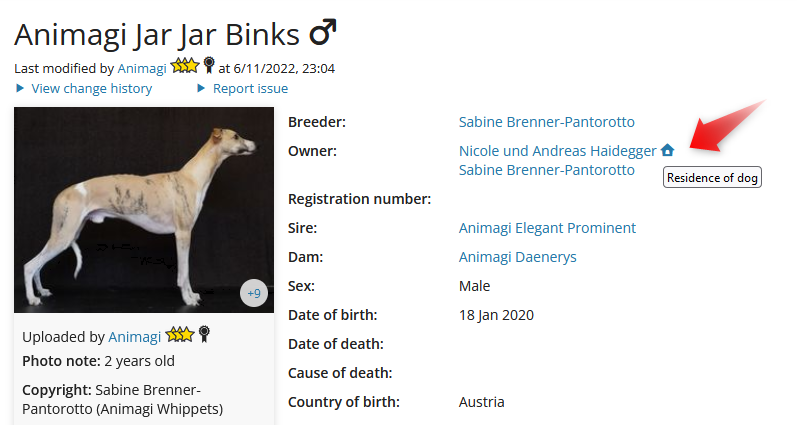 All other listed owners who are not marked as the dog's residence, i.e. do not have the small dog house symbol, are thereby automatically considered as co-owners.
New Person page layout
In the past - especially with long-time breeders - the Person page could become quite cluttered. If there were already many litters, you had to scroll down for a long time to see the most recent ones. We have now changed this by reversing the order, i.e. the most recent litters or youngest dogs are now shown first.
Moreover we have introduced sections for dogs owned, co-owned and bred, that can be accessed directly: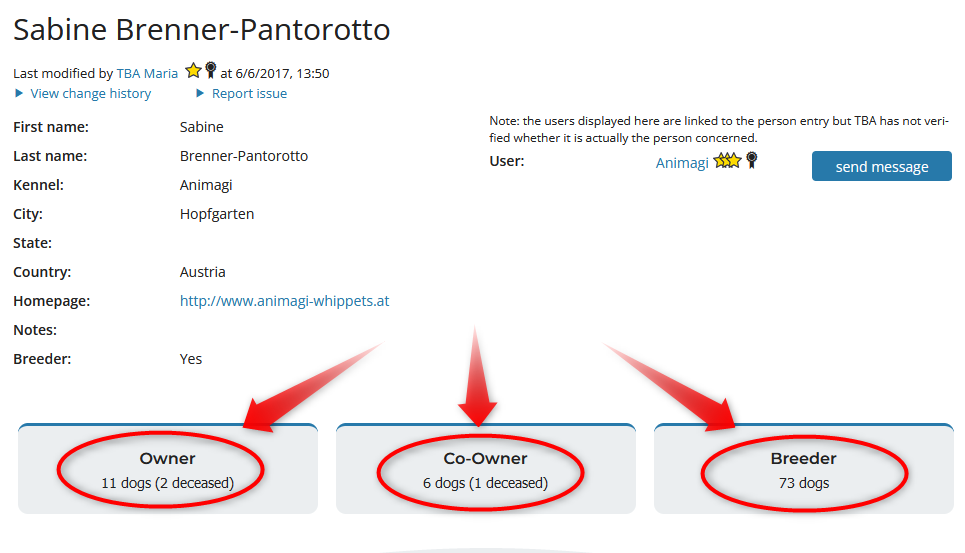 So we have now divided the page into individual sections that can be accessed individually. We do not only divide between owned and bred dogs, but also into co-owned dogs, i.e. in these cases, the residence of the dogs is not with the person.
There is also a further subdivision in each case into dogs that are still alive and those that are already deceased: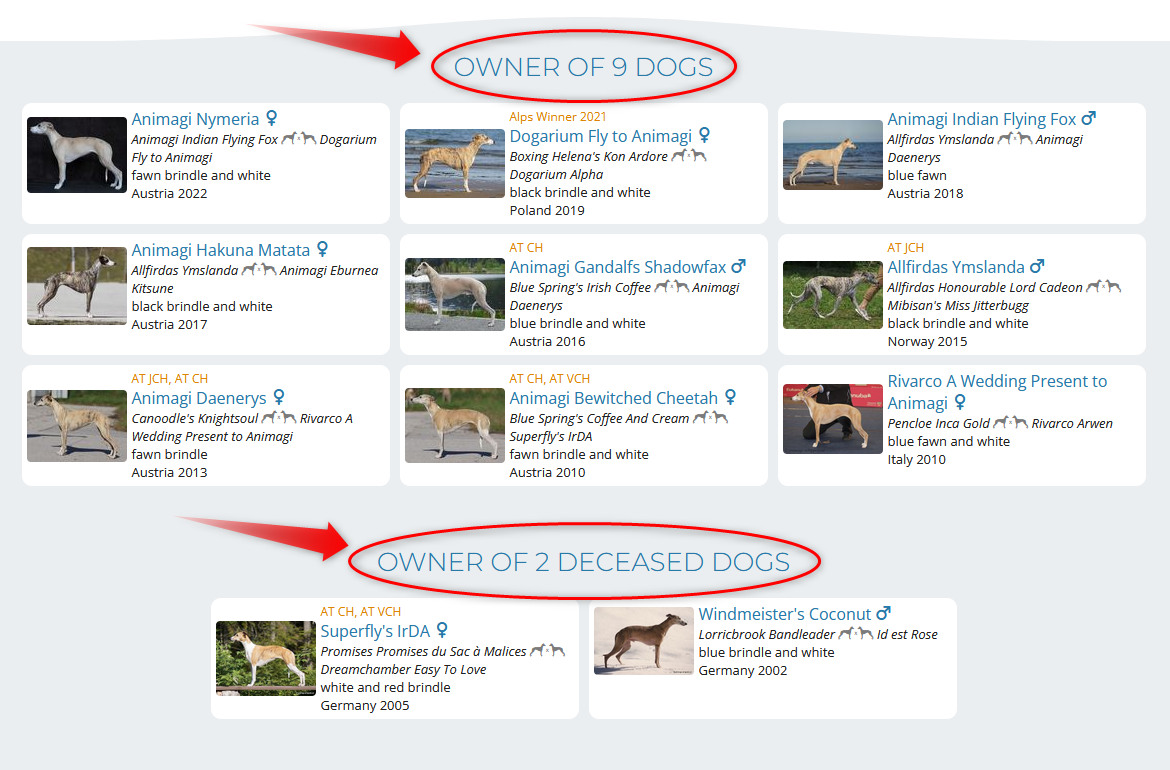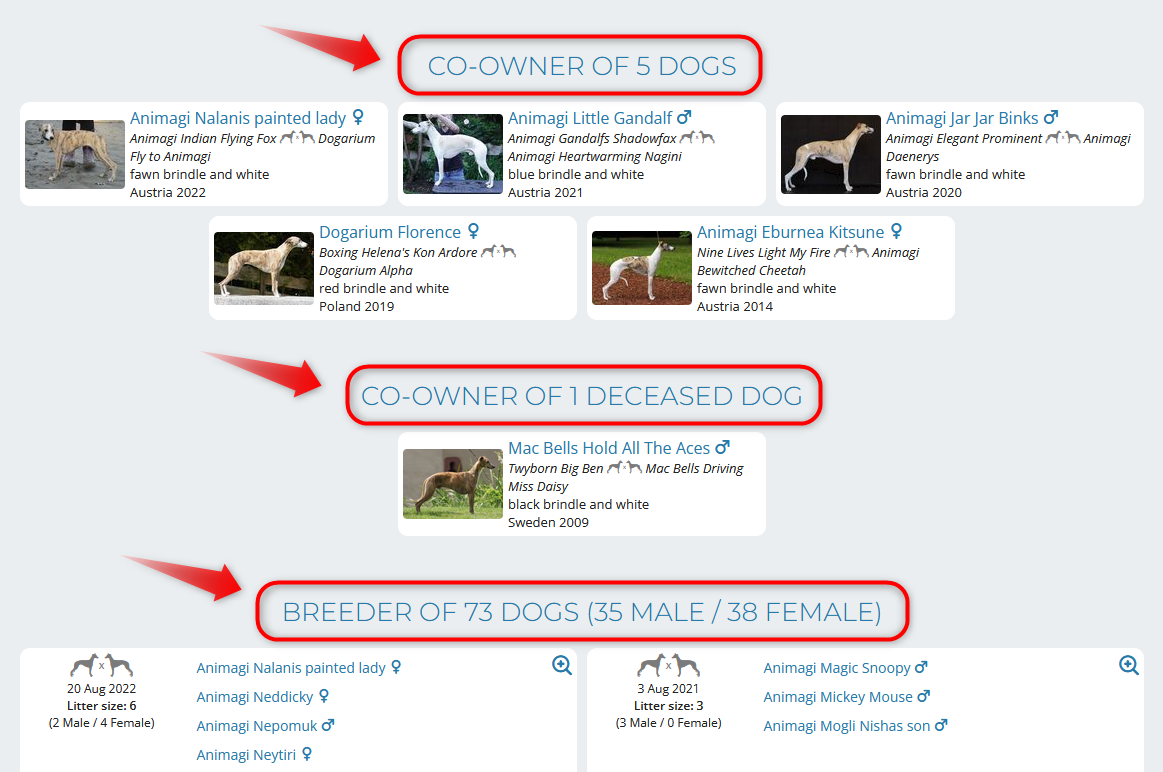 Important Notice:
Please note that dogs without a date of birth are automatically considered deceased on the Person page. So please always enter the date of birth for your current dogs!
(Since we had to classify all dogs on the Person page into one of the two categories, "living" or "deceased", we decided for "deceased" in the case of missing birth dates, since this applies to the majority of the dogs in our historical archives. Besides, such important data as the date of birth should definitely be available for current dogs, or at least be added now).