It's what many people look forward to, especially in the summer months: a day at the beach, spending hours dipping in and out of the water while enjoying the sun. Now let's double the fun and add your dog to that scenario. Exploring the beach, the waves and the new smells will make for a great experience for your dog and an enjoyable trip for you, so let's take a look into what you need to know about dogs at the beach.

Where to go
The first thing to do when planning a trip to the beach is to find out where your dog is actually welcome. Not every beach allows dogs and you can avoid unpleasant surprises by doing a bit of research before you start your trip. During high-season, dogs tend to be prohibited on regular beaches that are open to the public. If waiting for off-season, where the restrictions are often times lifted, is not an option for you, try finding dog-friendly beaches that are open specifically to dog owners and their companions. Some allow you to let your dog off the leash, others don't, so ensure that the conditions on-site match your expectations. BringFido has collected information about dog-friendly beaches around the world, so check out their website to find a beach that suits your plans for the day, or look up the pet policies of the beach you plan on visiting.
What to bring
Your dog's beach bag should be filled with the same stuff that can be found in yours: water, towels, food, and sunscreen. Fresh water should be available for your dog at all times to keep them hydrated and to avoid them drinking salt water, which can cause dehydration and nausea. Your supply should also leave you enough fresh water to give your dog a rinse-off at the end of the day, to wash out the salt and sand from their fur. By towelling them dry, especially their ears, you can prevent infections. Although you can check the ground for sharp objects, like glass shards and shells, there's still a chance your dog might step onto one. By bringing a first-aid kit with tweezers, a disinfectant and bandages, you'll be able to deal with a small injury yourself, without having to cut your visit short for a trip to the vet.
If you're planning on spending the whole day at the beach, pack some food for your dog. Getting hungry after a day spent splashing around in the water is a universal experience not limited to humans. Another thing that's just as important for your dog as it is for you is sunscreen. Sensitive areas that are not or only thinly covered by fur, like their ears, nose and belly, should be protected with canine sunscreen to keep your dog from getting a sunburn and irritated skin.
A parasol or a tent to provide your dog with a shady spot to rest in is indispensable for a day at the beach. Your dog has a higher risk of suffering from heat stroke due to their inability to sweat, so keep an eye on the amount of time they spend frolicking in the sun. You'll also do your dog a favour by steering clear of the midday heat, preferably visiting the beach in the morning or the evening, when temperatures aren't that high.
What to do at the beach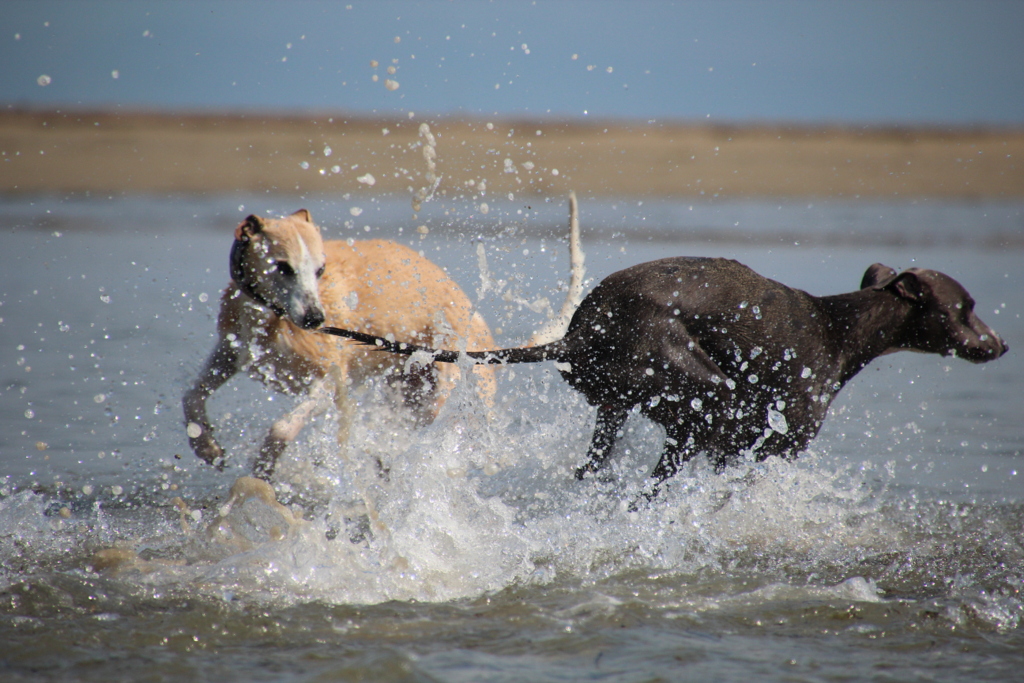 While some dogs like nothing more than jumping into the water at the first chance they get, others might be a bit more hesitant or don't really enjoy swimming at all. If you're not sure which category your dog falls into give them the time they need to familiarize themselves with the unknown territory and don't force them to go in if they don't want to. By taking a walk along the water's edge or throwing them their favourite toy (preferably one that floats), you can slowly try to coax your dog into the water without overwhelming them.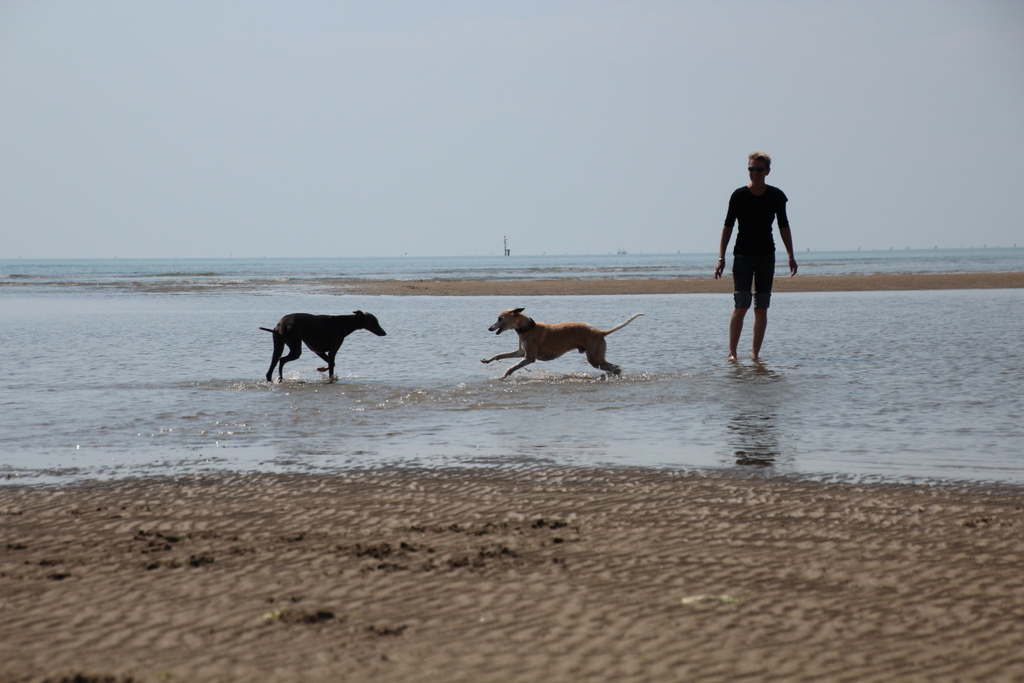 Before you let your dog into the water, take off their leash and collar as they can get tangled up and pose a threat to your dog's safety. No matter how eager your dog is to get in, take the time to acclimate them to the water temperature by wetting their paws and legs first. While your dog is in the water, keep a steady eye on them. Unexpected currents and waves can become a problem for smaller or less experienced dogs and require you to help them get back onto solid ground. Make sure to call your dog into the shade regularly to offer them drinking water and make them take a break, so they won't exhaust themselves playing around on the shore or in the sea. Speaking of breaks, just like us, dog should rest at least 30 minutes after they've eaten before swimming or other physical activities. Too much movement directly after a meal can lead to a flipped or twisted stomach, which is a serious threat to your dog's health and should best be avoided.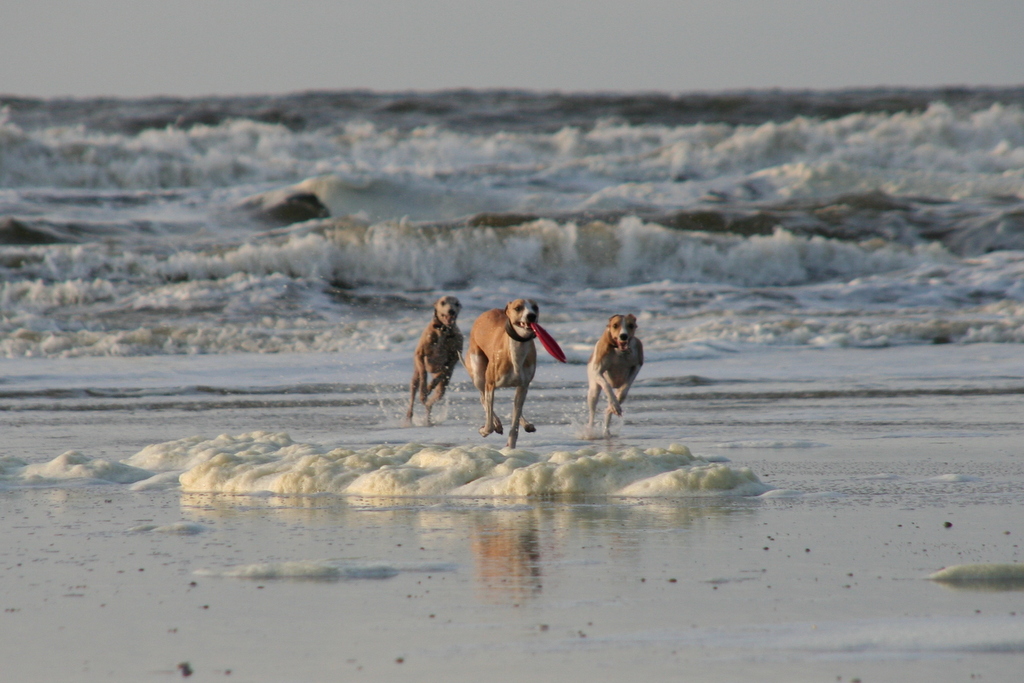 While you might be content to lay in the sun all day, your dog will probably want to be entertained, so bring enough toys that will keep them occupied: floating toys for playing fetch in the water, frisbees, and balls to throw along the shore are a fun way to pass the time. Make sure to keep to the shoreline where the sand is wet to avoid your dog burning their paws. Wherever you're going, remember that you are not the only person there and that not everyone might share your love for dogs. Admittedly, this might not be true if you're at the dog beach, but the same principles apply: don't let your dog bother other people, other peoples' dogs, or their food (dogs' or humans').
Watching your dog get excited by water, waves and sand is immensely rewarding and shouldn't be missed out on if you have the opportunity. Any shared activity with your dog that you've put some extra thought and effort into has the potential of becoming something special and a beach trip is no exception. Take a couple of minutes to imagine you and your dog strolling along the shore, playing fetch amidst the waves or taking a nap in the shade and you'll find that your next trip has already planned itself.