Welcome the Manchester & English Toy Terriers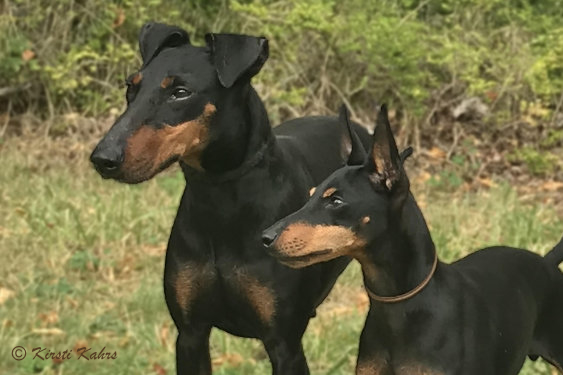 The keen and alert Manchester & English Toy Terriers are now also part of our TBA family. They have a true terrier spirit and a compact, elegant and sound appearance with substance.
Smooth black and tan coloured terriers have existed in England for centuries, appearing in art dating as far back as the 16th century. The breed became popular in the early-19th century as a competitive ratter, making frequent and highly acclaimed appearances in the rat pits where enthusiasts would bet on the number and speed at which they could kill vermin.
Originally known worldwide as Black & Tan and Toy Black & Tan Terrier, the breed diverged in the mid-20th century and is now known as Manchester Terrier (Standard and Toy varieties) in North America and as Manchester Terrier and English Toy Terrier (Black & Tan) in the rest of the world.
The name of the Manchester Terrier indicates its origin and it is likely that it has a share of Whippet in its ancestors. It was bred as a ratter and is still able to drive away vermin quickly and efficiently today.
It is estimated that fewer than 1,000 Manchester Terriers/English Toy Terriers are registered each year worldwide.