Welcome to The Breed Archive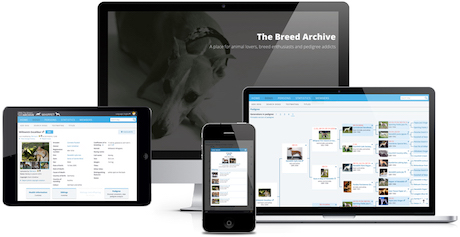 The Breed Archive is an online platform that connects animal lovers and breeders from all over the world. It provides information about different breeds (at the moment exclusively dog breeds), with a focus on pedigrees, by collecting and publishing pedigree data provided by the respective breed enthusiasts. The platform also offers a wide variety of features, including extensive health and pedigree analysis (with the coefficient of inbreeding and ancestor loss), test matings of future litters, health and popular sire statistics and much more. Of course, there are also numerous opportunities for users to interact with each other and keep up to date on their favourite breed.
From idea to action
Karin, one of our founders, a great dog lover, was finally able to fulfil her great wish in 2005 when she got her first whippet, Marley (Willowick Excalibur).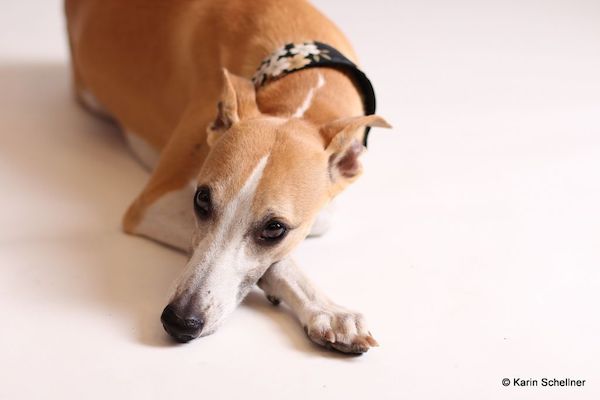 Marley was the inspiration for the creation of The Whippet Archives (the predecessor of the Breed Archive), and is now the mascot of our Breed Archive platform.
Marley changed my life completely. I wasn't particularly interested in pedigrees at the beginning, but digging into long pedigree lists sparked a new fascination in me. I was looking for the possibility to drill down into my dog's pedigree, back to his ancient relatives – if possible, back to the very roots of the breed, more than a hundred years ago. I couldn't find a resource like that on the internet, or at least not in the form that I imagined it, and I knew that I had the technical qualification and programming skills. So I just did it. That was in August 2006. My idea was that it should be a community website, where entries were made and maintained by the community – allowing a database to grow fast with a lot of entries coming from different places all over the world.
The beginning of The Breed Archive
From 2006 to 2016, Karin did all the technical work herself and provided the support for this original version. The Whippet Archives became very popular, and it was when breeders and owners from other breeds started to show interest in the site that the idea was born to establish Breed Archives for several breeds (not only for dog breeds; we have already had requests for cats, horses, birds, fancy rats, rabbits and snakes). Moving to the new format meant a complete reprogramming of the technical base, raising it to a new level, taking security issues into account and making it possible to implement a whole range of additional features. The Breed Archive has been online since February 2016 and is growing constantly. We are now a small, dedicated team, managing the implementation and support together.
Features of The Breed Archive
Although the Breed Archive started as a kind of online pedigree database, the possibilities it offers today go far beyond that. Here's what you can do:
Follow a dog's pedigree over many generations
Check out the latest additions and updates in our news feed
Search, browse, and view details of any dog
View the change history of any dog
Carry out a pedigree analysis on each dog, allowing you to obtain the inbreeding coefficient and the ancestor loss up to the 10th generation
Have a look at the health analysis, which summarizes health information about your dog, his parents, siblings and halfsiblings at a glance
Do a test mating of future litters
Check out all our statistics, including the health statistics and the popular sires
View a dog's reverse pedigree
If you are a registered user (registration is free!) you can additionally:
Add and edit any dog and person
Connect your user account to your person entry
Upload one photo per dog
Add dogs to your personal favourites
Revert and merge a dog's change history
Manage your user profile with a picture and personal settings
Exchange personal messages with others
All of the above options are freely available to all users. For subscribers we provide a whole range of additional features. As a subscriber you can:
Hide ads
Upload an additional 100 photos
Create personal breeding plans (permanently store arbitrary test matings in private breeding plans, allowing you to plan many generations into the future)
Study the breeding statistic of any breeder
Get a compact litter-details view for each mating, showing the parents and their offspring nicely grouped
Add private notes to any dog
Display all descendants in reverse pedigrees
Get email notifications when your favourites change
Breeders of The Breed Archvie have special use cases that we wanted to additionally consider. Therefore, we have introduced a special breeder subscription to support them with even more features. In addition to the above-mentioned subscription functions with a breeder subscription you can:
Users who support the Breed Archive with a subscription, breeder subscription or sponsorship (which includes a one-year subscription) not only get access to the additional features mentioned above, but also support the future development of our archives.